Welcome to the official Tim Flock Website! This site has been established by Tim's family to keep alive the memory of the only driver to win in all four major divisions at Daytona Beach, the all time start to win record holder, the two time NASCAR Nextel Cup Champion, one of the best ambassadors of the sport, and the greatest story teller in NASCAR history!

So strap in, it's going to be a great ride!!!!
---
Tim Flock Named To NASCAR Hall of Fame 2014 Inductees!
Tim Flock has been named one of the five new inductees to the NASCAR Hall of Fame in Charlotte, NC for 2014. Tim is joined by Fireball Roberts, Maurice Petty,Jack Ingram, and Dale Jarrett. The induction ceremony will be held on Wednesday, January 29, 2014 at teh Hall of Fame in Charlotte. For more info on the inductees, click here. For more info on the NASCAR Hall of Fame, click here.
---
Earlier this year, Tim and his announcement as a new member of the NASCAR Hall of Fame was honored at J.B. Day's annual gathering at the Riverbend Racing Museum n Easley, SC. The folks from Raceweek Illustrated Garage Talk were on the ground to talk to those gathered about Tim and about the importance of his being chosen for the NHOF, including Frances Flock, Buz McKim, Rex White, Gordon Pirkle and others. Have a look at their report below.
---
The sixth annual Lakewood Speedway Reunion will be held in honor of Georgia Racing Hall of Fame member and newly announced 2014 NASCAR Hall of Fame inductee Tim Flock! The annual event, held at the Georgia Racing Hall of Fame in Dawsonville, GA, is set for Saturday, Aug. 10. Tickets are $20 per person, with a meal included for those that purchase tickets in advance. For more info, visit here.
---
Want to learn more about Tim, Bob, Fonty and other members of the Flock family? You can visit Georgia Racing History.com for some incredible stories of the Flock Family, and of racing history. For example, did you know that Tim is the only NASCAR racer to win a title on his head? It's true! You can read about it here. How about the often told story of Jocko Flocko, Tim's racing monkey co-pilot? That story, along with being here at Tim Flock.com, is also told here. Tony Stewart may be the current hot shoe driving the number 14, but Tim's brother Fonty was the first NASCAR driver to make that number a famous winner, and you can read about it here. And, did you know that Tim, Bob and Fonty were among the members of the Georgia Gang to DOMINATE racing at Daytona Beach? Read all about it here.
---
Okay, so no matter how many times we tell the story of Jocko Flocko, there are still folks who just can't believe Tim raced with a monkey. So our crack team of researchers went to work, and found some very rare photos of Jocko in his racing uniform!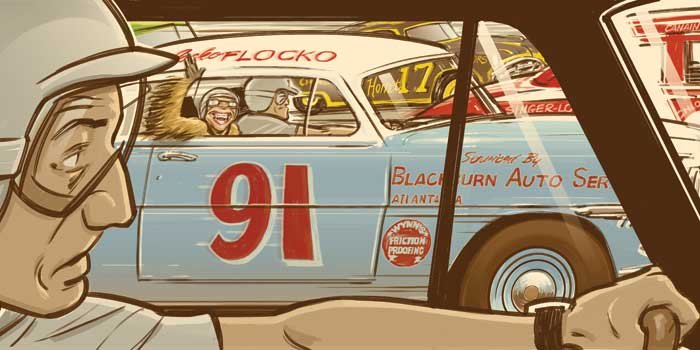 For more photos, and to read the story of Jocko Flocko, NASCAR's first racing monkey, click the "Jocko Flocko" link, located on the menu on your left!
---
Hey, did you know that Tim was among the first class of inductees into the Georgia Racing Hall of Fame in Dawsonville, GA? In fact, Tim, Bob and Fonty are all three inductees into the hall! Long time friend and racing historian Gordon Pirkle has done a fantastic job on the Flock display in the "moon room" of the hall, with trophies, photos and more. If you get a chance, please stop by the hall when you're in the area (and tell Gordon we said "Hi!"). You can get more information on the hall of fame here. And don't forget, Frances always comes out to the Dawsonville Moonshine Festival in October each year!
---
Questions, comments, suggestions? Email us!