---
Tim Flock Inducted Into the ASHOF
On May 21st, 2006 Tim Flock was inducted into the Alabama Sports Hall of Fame in a ceremony held in Birmingham, Alabama. Frances Flock and Peggy Flock were both in attendance. Being inducted into the ASHOF was Tim's dying wish, having been born in Ft. Payne.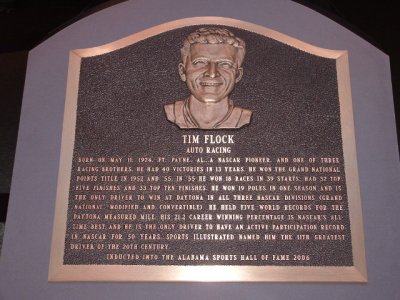 Tim's plaque in the ASHOF. Click on the picture for a larger image.
Frances and Peggy with a display of some of Tim's trophies and other items (you can get your own copy of that big picture in the back from our merchandise page).
The big moment. One look at that smile, and you can see how proud Frances is that the big moment finally came!
---
Tim Flock to be Inducted Into Alabama Sports Hall Of Fame

On Monday, October 10th, we received this email from Tim's daughter, Peggy;

Dear Family and Friends,

We wanted to share our good news with you, my Daddy Tim Flock will be inducted into the Alabama Sports Hall of Fame in May 2006. We just received the press release this weekend and wanted to share with you. This is something my Daddy wanted so bad while he was alive. We will be going to Alabama for the induction and to receive the award for Daddy.

Love,
Peggy

Peggy also sent along a copy of the press release announcing the wonderfull news!

ALABAMA SPORTS HALL OF FAME

CLASS OF 2006

The Board of Directors of the Alabama Sports Hall of Fame is pleased to announce that the accounting firm of Deloitte and Touche has certified the results of the Alabama Sports Hall of Fame ballots for the Class of 2006 as ranked by the statewide selection committee.

The newly elected inductees for Class #38 are:

MODERN CATEGORY

Mickey Andrews

Joe Ciampi

Mia Hamm

Lionel James

Buddy McClinton

Bob Veale

OLD TIMERS CATEGORY

Jim "Peanuts" Davenport

Tim Flock

The newly elected eight inductees now bring the total of all inductees since 1969 to 257.

The 2006 induction banquet will take place in the Birmingham Ballroom, at the Sheraton Birmingham Hotel, Sunday, May 21, 2006. Reception and banquet tickets will be available at a later date.

The press release information on Tim reads as follows;

TIM FLOCK - Born on May 11, 1924 in Ft. Payne.

A NASCAR pioneer and one of three racing brothers, had 40 victories in 13 years. He won the Grand National points title in 1952 and '55. In '55 won 18 races in 39 starts, had 32 top five finishes and 33 top ten's. He won 19 poles in one season. He is the only driver to win at Daytona in all three NASCAR divisions (Grand National, Modified and Convertible). In 1952 was selected Driver of the Year by Speed Age Magazine. He was inducted into the Stock Car Racing Hall of Fame in '77 and the Georgia Sports Hall of Fame '78. His 21.2 career winning percentage (40 wins in 189 starts) is NASCAR's all-time best. He held five world records for the Daytona Measured Mile.

Congratulations to the entire Flock family!