To view the full image, just click on the picture. PLEASE do not repost these photos without permission. Thanks!
---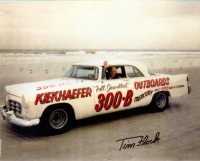 On the beach in the last surviving Kiekhafer Chrysler 300 in February 1998. You can see more images like this during the opening sequence of CBS' Daytona 500 coverage from 1998.
Tim and Jocko Flocko, NASCAR's only race winning, co-driving monkey.
Tim in victory lane in Detroit in 1952. That's daughter Peggy (his favorite) standing on the hood, and legendary Hudson Hornet mechanic B.B. Blackburn behind Tim.
Tim behind the wheel of one of the winningest rides, Carl Kiekhafer's #300 1955 Mercury Outboards Chrysler 300. If you look close at the roof, you can see that this car had won three times already, including on the beach at Daytona.
Tim takes a cool sip of milk.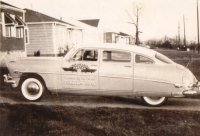 The Hudson Motor Company gave Tim this brand new Hornet for winning the 1952 NASCAR Nextel Cup Championship.
This photo is from 1952, at Daytona Beach. Tim is being presented with the trophy for the National Challenge Ultima Class Race. The trophy is now on display at Daytona USA. The man standing behind Tim is band leader Paul Whiteman.
9 NASCAR Nextel Cup Championships between them. Tim and Dale Earnhardt at the International Motorsports Hall of Fame in Talladega in 1991.
Now, this is one of my favorite photos. That's Tim with wife Francis and his favorite daughter, Peggy. You'll notice that Tim's hat reads "Silver Fox", and you can see that long hair in back. Peggy told me this story about the photo; "The one photo of me, Daddy and Mom was taken at St. Pete Beach, July 1996. We were going to a party on the beach and Daddy had found this crazy hat at the store earlier and being the crazy guy he was he wore it to the party. The party was alot of my friends getting together on the beach and they did not know Daddy, They all thought it was so cool that I would have such a hip Dad with long hair."
Tim and Francis.
Tim on the pole at Daytona Beach in 1956.
Tim in the #15 Mercury alongside Lee Petty in the 1957 Daytona Beach convertible race.
Tim chases Fireball Roberts through the north turn on Daytona Beach in 1955. It's was Tim's first race in the Kiekhafer Chrysler.
Tim racing a Rocket 88 on the beach in Daytona in 1954. This is a very historic picture, as this was the first car in NASCAR history to carry a two way radio, allowing Tim to talk to his crew during the race!
This is the car that Tim drove in his final race, the 1991 Winston Legends event at Charlotte Motor Speedway. Tim finished 10th in the race after hooking bumpers and fighting hard with Junior Johnson.
Tim suited up for the Winston Legends event in 1991.
Tim at Darlington in 1997.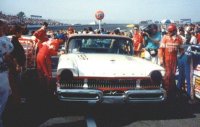 Tim driving his 1957 Mercury in pre-race ceremonies at Atlanta sometime in the early 90's.
Tim behind the wheel of the Mercury. He looks right at home.
Buck Baker, Frank "Rebel" Mundy, Tim Flock-Daytona Beach, 1956.
Bob, Tim & Fonty - Bob Wins at Tenn. Aug. 14, 1955.
President George H.W. Bush honors Tim, with Darrell Waltrip.
Ethyl Flock Mobley, the racing Flock sister, with her daughter Darlene.
Cark Kiekhafer's car haulers, circa 1956.
Tim, sons Donald & Richard, and Tim's mother at Daytona Beach, 1952.
Tim & the CMS Pace car at Martinsville, Sept. 27, 1981
Tim & his winning Mercedes, NASCAR sports car race, June 1955, Raleigh, NC
Tim cleaning his windshield at Daytona Beach in 1954. This Oldsmobile had the first 2 way radio used in NASCAR. Tim was flagged the winner, but was disqualified, giving the win to Lee Petty.
Bruton Smith & Tim, 1980. Tim is presented with the Flock Brothers Award, given each year at Charlotte Motor Speedway to the individual or company that has done the most to promote stock car racing.
Tim & Frances during pre-race ceremonies at the first Brickyard 400, Aug. 1994
Tim & Frances on the famous Yard of Bricks at the first Brickyard 400, Aug. 1994.
Pictured left to right are Russ Truelove, Francis Flock, Tim Flock, Bobby Allison, Frank "Rebel" Mundy, Herb Thomas, and Ray Fox.
Jack Smith, Tim, a fan, and Bill Watson at Daytona Beach, Feb. 11, 1998.
Tim, Uncle Jim, Fonty & Bob.
Frances Flock, Tim Flock, Fonty Flock in victory lane after the 1952 Motor City 250 in Detroit. This is one of our webmaster's favorite pictures
Tim, Hilly, and Bobby Allison in 1995 at Daytona Beach.
Tim Flock, Grady Rogers, Donald Flock.